Is it the flu? 
Or is it a bacterial infection or COVID-19?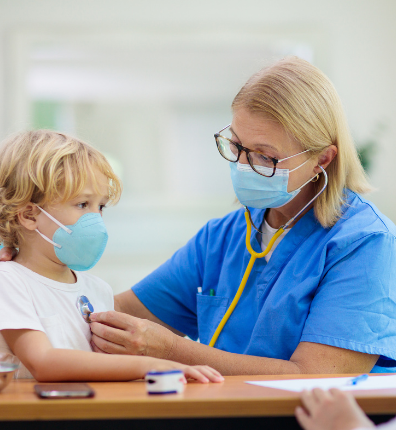 It's not your average flu season. 
In today's world, rapid influenza diagnostic tests (RIDT) & point-of-care testing (POCT) options are no longer sufficient.
HealthTrackRx is the nation's premier infectious disease laboratory with one mission: delivering fast, accurate, and actionable results within 24-36 hours of sample receipt.
With over 99% accuracy, sensitivity, and specificity, our flu season respiratory menu provides definitive PCR diagnostics for:
COVID-19 Coronavirus (SARS-CoV-2)
Influenza A/B Species
RSV (Respiratory Syncytial Virus)
Viral & Bacterial Coinfections
Fast, accurate results when you need them most. 
Did you know...?
Up to 50% of viral positive patients have a bacterial coinfection*
*Singh V, Reddy J, Granger J (2019) A Survey of Viral-bacterial Co-infection in Respiratory Samples Using Multiplex Real Time-PCR . J Infect Dis Ther 7: 400. Doi: 10.4172/2332-0877.1000400 (Internal Research Study)
Up to 70% of patient deaths post-flu are the result of pneumonia coinfection**
**Morris DE, Cleary DW and Clarke SC (2017) Secondary Bacterial Infections Associated with Influenza Pandemics. Front. Microbiol. 8:1041. doi: 10.3389/fmicb.2017.01041.
Don't miss a coinfection.
We offer industry-leading PCR diagnostics for common respiratory pathogens including: 
Respiratory Viral Pathogens (RVP)
COVID-19 Coronavirus (SARS-CoV-2)
Influenza A
Influenza B
RSV (Respiratory Syncytial Virus)
Most Common Bacterial Coinfections
Bordetella
Chlamydophila pneumoniae
Haemophilus influenzae
Klebsiella pneumoniae, oxytoca
Moraxella catarrhalis
Mycoplasma pneumoniae
Staphylococcus aureus
Streptococcus pneumoniae
Group A strep (GAS)
Most Common Viral Coinfections
Human metapneumovirus
Adenovirus HAdV-B
Enterovirus D
COVID-19 Coronavirus (SARS-CoV-2)
Influenza A, B
RSV (Respiratory Syncytial Virus)
Acinetobacter baumanii
Aspergillus
Candida
Varicella zoster virus
Candida auris
Chlamydia trachomatis
Coronavirus (Non-novel)
Escherichia coli
Enterobacter aerogenes, cloacae
Enterovirus A+B+C
Legionella pneumophila
Mycobacterium
Neisseria gonorrhoeae
Parainfluenza virus (I-IV)
Proteus mirabilis, vulgaris
Pseudomonas aeruginosa
Rhinovirus A+B+C
Rhizopus spp, Mucor spp.
Serratia marcescens
Staphylococcus spp.
Learn More
Ready to improve outcomes with fast, accurate diagnostic results? Contact us to learn more.